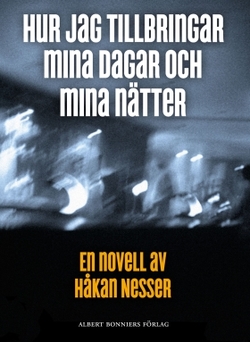 Maarten and David Perowne meet for the first time at Harry's Pub on a rainy Thursday night in November. After a few drinks, David begins to tell a most remarkable story about Maarten's wife, Marlene.
David claims to know her very well and reveals a dark secret from her murky past, and the fact that her real name is not Marlene, but Clara Maxwell. He knew her many years ago, and as a matter of fact she used to be married to his best friend. In the end, David states that she actually murdered his friend and has gotten away with it, at least until now. The pair even had a child together, a son, who was found drowned in the tub a week before he was supposed to celebrate his second birthday. Was it an accident, or was the young boy murdered, like his father?
Håkan Nesser's novel How I spend my days and my nights was written especially for the audio book publisher Bonnier Audio and was read by the author himself. It was also dramatized as a thrilling soliloquy for the stage in Nesser's former home town of Uppsala.